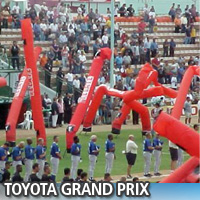 TOYOTA GRAND PRIX OF LONG BEACH 30TH ANN.
SKYDANCERS, INC. ALONG WITH THEIR DEALER FLYTUBES FROM MONTERREY, MEXICO PROVIDED 20 RED AND WHITE TECATE LOGO TUBES ALL THROUGH OUT THE RACING GROUNDS FOR THE 30TH ANNIVERSARY TOYOTA GRAND PRIX ON APRIL 16 -18, 2004.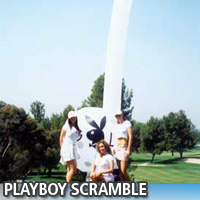 PLAYBOY SCRAMBLE
Golfers from all over came to play in the 2004 Playboy Scramble Finals at Industry Hills Golf Course in sunny Southern California. During the two days of golf, celebrity foursomes teed off, Girls of Golf hosted each hole and a few Playmates caddied for lucky golfers. Four television networks, including Spike TV, The Discovery Channel, Fox Sports Net and The Playboy Channel, chronicled the event. Skydancers provided a large dancing golf ball and Playboy golf logo tube for the photo op location on the 10th tee.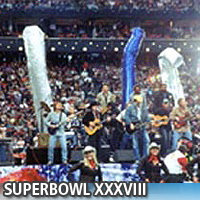 SUPERBOWL XXXVIII
Skydancers joined with event planners in launching metallic Skydancers in patriotic colors at Super bowl XXXVIII pre-show extravaganza. A stage full of red, blue, and silver animated Skydancer flytubes came to life as the inflatables danced to the popular music of Willie Nelson and Toby Keith.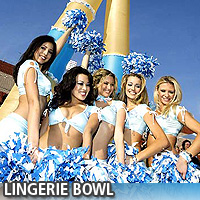 LINGERIE BOWL
Slydancers along with Horizon productions introduced custom Real- Face Skydancers™ at the first Lingerie Bowl. The Skydancers were 25′ tall lingerie clad dancing inflatables that had digital photo scanned faces of the celebrity team captians Nikki Zering and Angie Everheart.
The Skydancers danced the entire game that was held during the half time of of Super Bowl 38.